ALL ABOARD
For over 25 years Mainline Models has supplied the Rail Industry with finely crafted, desktop models. Each model we carefully and meticulously assemble is completely accurate and prototypical to its train car contemporary. We take pride in the quality of models we construct. The passion our customers have about our products is the same passion we put into their creation.
NO TUNNEL VISION HERE
Tom Bartzen founded Mainline Models with the dream to supply the Rail Industry with finely crafted, desktop models. Today, we have over 50 clients and volumes of testimonials from our satisfied customer base.
We work closely with our clients so we can uncover their needs and find the best way our products will benefit their company. Mainline Models is also proud to have an exceptional record of safe and on time deliveries.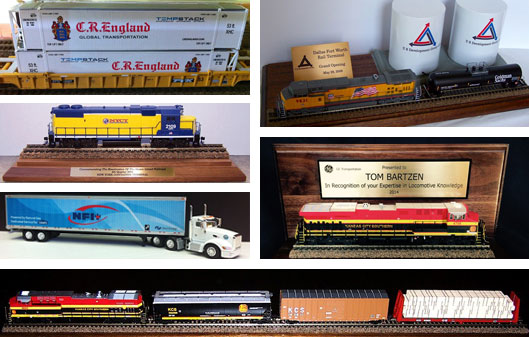 PULLING OUT OF THE STATION
Mainline Models specializes in producing top quality, HO scale, O scale, and G scale desktop models for the Rail Industry.
Our custom models are mounted to trophy style, dark walnut wooden bases, with realistic track and ballast. The entire display is encased in a clear, acrylic dust cover. We also offer brass nameplate engraving services to personalize each display.
Having a finely crafted scale model can assist you in your marketing and sales for years to come.
Photo Gallery
NO TICKET REQUIRED
Customers use our models as corporate or retirement gifts, awards, order recognition, mementos, and deal toys. According to buyers, a Mainline Model displayed on a customer's desk has a much longer impression time than any other gift—attesting that a finely crafted, scale model can assist you in your marketing and sales for years to come.
Commuters to Customers
These are some of our fantastic and fanatic customers who love our products just as much as we do.
ALASKA RAILROAD CORPORATION
AMERICAN RAILCAR INDUSTRIES
BNSF RAILWAY
BOMBARDIER
BROIN ENTERPRISES, INC.
CANAC RAILWAY SERVICES
CANADA NATIONAL RAILWAY
CARREDEN GROUP, INC.
CIT RAIL
CR ENGLAND
CSX CORPORATION
ELBOW RIVER MARKETING, LTD.
ELECTRO-MOTIVE DIESEL
ELEMENT FINANCIAL
ENBRIDGE, INC.
FLORIDA EAST COAST RAILWAY
FREIGHTCAR AMERICA
GEMINI MOTOR TRANSPORT
GENESSE & WYOMING INC.
GE TRANSPORTATION
GREENBRIER COMPANY
GULF & OHIO RAILWAYS, INC.
HUB GROUP, INC.
HYUNDAI GROUP
J.B. HUNT TRANSPORT
KANSAS CITY SOUTHERN
KANSAS CITY SOUTHERN DE MEXICO
KEY EQUIPMENT FINANCE
MACQUARIE CAPITAL
MHF LOGISTICAL SOLUTIONS
MIDWEST RAILCAR CORPORATION
MISSISSIPPI EXPORT RAILROAD
MORGAN STANLEY
MOTIVA ENTERPRISES, LLC.
NAPIER PARK GLOBAL CAPITAL
NEW YORK CONTAINER TERMINAL
NORFOLK SOUTHERN CORPORATION
NOVA CHEMICALS CORPORATION
PHILLIPS 66
PORTED POWER SUPPLY
PROGRESS RAIL SERVICES
RAILSERVE
RENEWABLE PRODUCTS MARKETING GROUP
RIO GRANDE CHEMICAL, LTD.
RIO GRANDE PACIFIC CORPORATION
SHENANDOAH NORTHERN COMPANY
THERMO KING CORPORATION
TRINITY INDUSTRIES
UNION TANK CAR COMPANY
UNION PACIFIC RAILROAD
WALTER HAFFNER COMPANY
WATCO COMPANIES
Testimonials
TRIED AND TRUE
Mainline is a trusted name in the railroad model industry—and here's proof.
YOU'RE ON THE RIGHT TRACK
Ready to get on board? Get in touch with us today and we'll help create the model you're envisioning.
MAINLINE MODELS
P: 972.562.6727
info@mainline-models.com